Meet Sarah from 'Delaney Designs' who has a passion for upcycling – and upcycles fabrics and clothes into gifts and accessories for the home…
Sarah writes: A couple of years ago, I took the plunge and gave up the day job and turned my hobby into a business. I'm so lucky to do what I love as a job and often wish I'd done it earlier. (But as my husband quite rightly pointed out, I wouldn't have picked up all the business skills along the way, if I hadn't worked elsewhere) I love upcycling – the art of turning something unwanted into something new and useful is hugely satisfying. Combining this passion with my basic sewing skills is even better and so rewarding.
Even though I came to sewing late in life and am self-taught, when I think about it, I do think these skills must be in my blood – my paternal nan was a seamstress by trade and grandad had a reputation for making the most amazing fancy dress outfits on family trips to holiday camps (pic). My mum and dad were also advocates of 'why buy, when you can make it' – I have such fond memories of converting a bookshelf into our Sindy house and making bean bags out of material scraps and filling them with cherry stones from the garden!!! We used to get as much enjoyment out of making things for our dolls, as playing with them.
The gifts and accessories that I make are made from recycled fabrics and clothes – alot of the fabric is sourced from charity shops. So I like to think that I'm not just doing my bit for the environment , but local charities get to benefit too – hooray! Because my items are all made from second hand materials, you'll also find on all the labels, that I'll identify exactly what material was used eg. "this ipad cover used to be a pair of trousers and a fleece." I think it's important to give my gifts a story.
I combine selling my wares online and I find attending markets and fairs is a great way to get instant feedback and a lot of ideas come from my customers. That's how the owls started – and now I provide hotels with soft furnishings using fabrics from refurbishments!
As for the future, I'm continually learning and evolving what I make. As I build in confidence too, I find I'm trying all sorts of different things. The dream is to one day have a shop selling mine and fellow upcyclers makes – perhaps even run workshops where you can learn about upcycling.
THANK YOU SO MUCH FOR ALL OF THE ENTRIES – AND THE WINNER IS PENNY C!
THIS PRIZE DRAW IS NOW CLOSED.
We are giving you a chance to WIN one of Sarah's upcycled phone cases…
1) LIKE Sarah's page on facebook, and for extra points,
2) follow @incredibusy on Instagram and share the #MagpieMonday photograph of the upcycled phone cases
3) follow Sarah on Pinterest, and pin it too!
Find Sarah on Facebook: www.facebook.com/delaneydesignsuk
Twitter: www.twitter.com/ddesignsuk
Pinterest: www.pinterestcom/ddesignsuk
Website: www.ddesignsuk.com
We're linking up to @MissieLizzieB's #MagpieMonday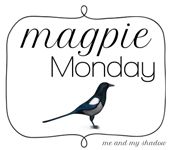 a Rafflecopter giveaway